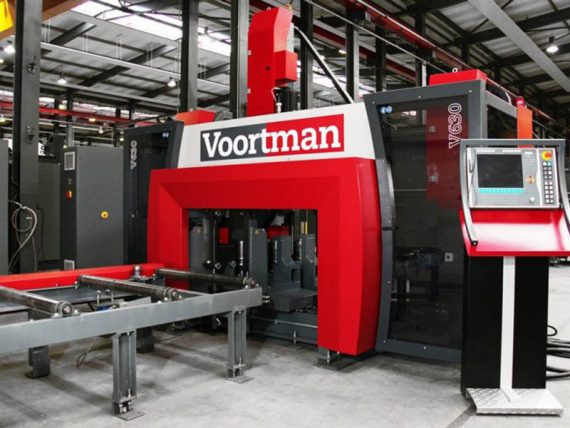 3 separate servo controlled drilling units
Simultaneous drill profiles vertically or horizontally
CNC controlled
Can be equipped with feeder rolls or feeder truck
Designed for big size fabricators
Operating range: 10 – 600 mm / 60 – 1.250 mm
Punching & shearing System V550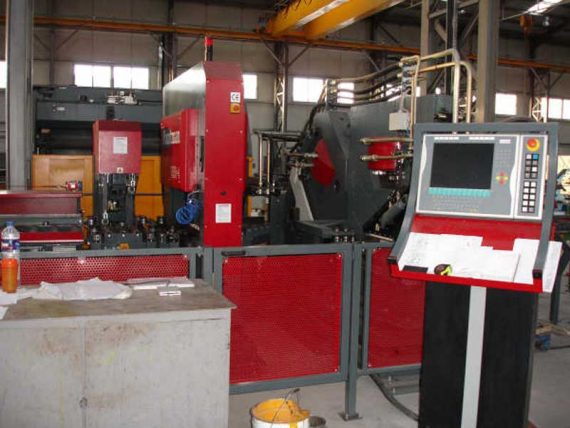 Infeed system, suitable for flat steel and angle steel with a length up to 9m and provided with a feeder truck with material clamping.
Infeed drag-chain cross transports, 5 driven supports.
Vertical punching machine, punching capacity 100 ton. The punching machine is fitted with 3 punches.
Shear for flat steel, shearing capacity 180 ton.
Shear for angle steel, shearing capacity 180 ton.
Plate punching & Drilling System V250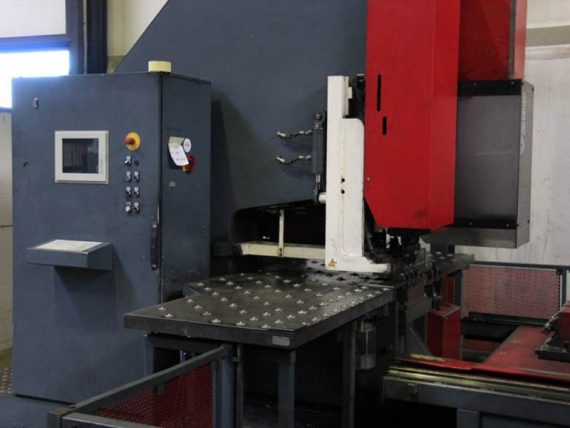 V250 Plate punching machine (executed with a VPC 1000 Hydraulic 3-tool punching unit with manual quick-change adapters and an X-Y coordinate table). Drill Changer (6 positions). Carbide tipped drill for highest quality and faster process.
Full Automatic Closed Shotblasting Machine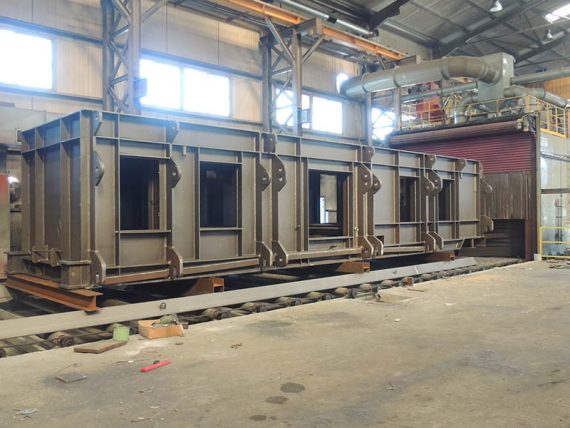 18 turbines for shotblasting of complex steel structures with dimensions of 4.00 x 4.00 m (height x width) up to 50 tns weight
Automatic Sand Blasting Machine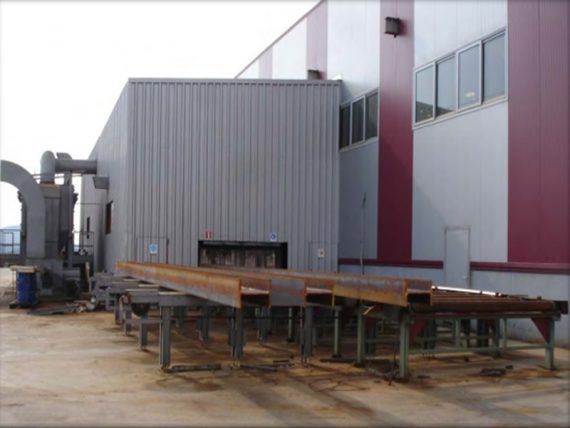 Automatic sand blasting machine (pre- heating sand blasting- painting system) 2.50 m width.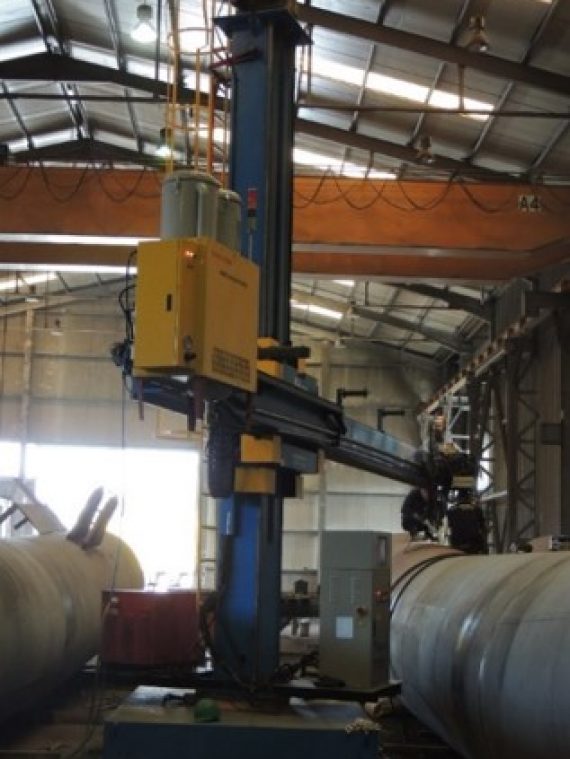 Welding Boom performing welding operation on pipes with D1800 with 80-90mm thickness for an Arch Bridge Project.
Automatic Submerged Arc Welding Machine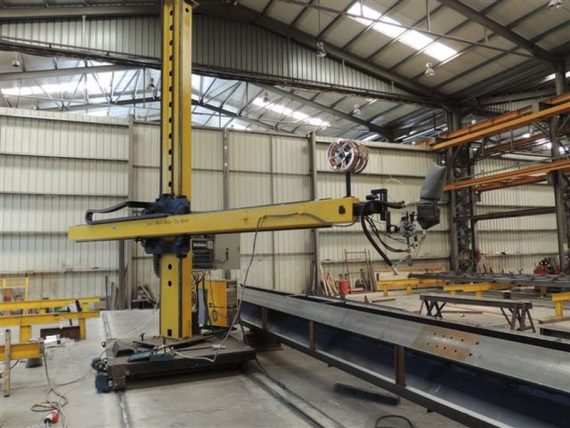 Welding of plates and tubes despite of the quality of the material (it can weld plates/tubes) without any limitation in thickness.The machine (electrical moving and electrical rotation) is moving on rails in order to facilitate it's length capacity and on axes (height: max 5 m – width: max 5m)The welding can be performed with single or twin wire.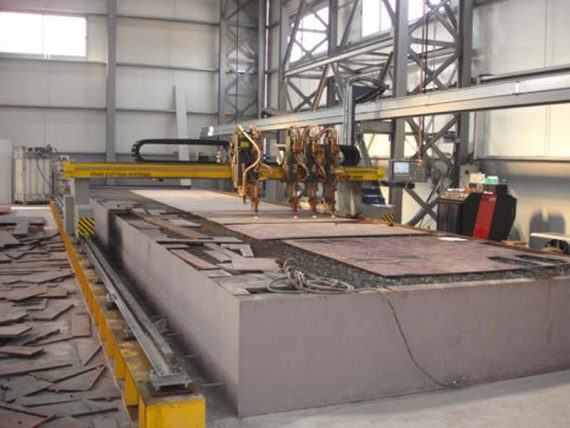 CNC cutting machine ESAB for plates up to 200 mm ( cutting 3m x 15m with 4 oxygen and 1 plasma).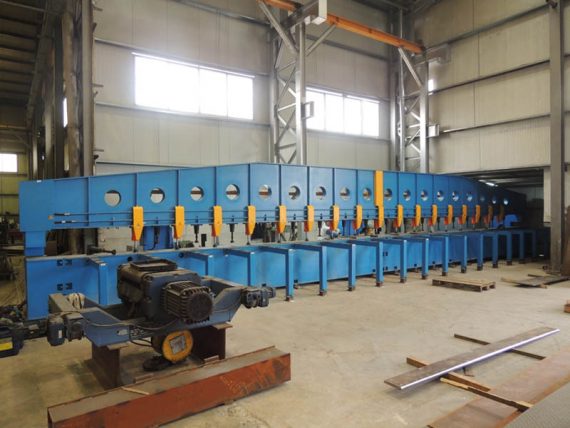 Bevel machine up to 100mm ± 60° and armox plates
HACO Hydraulic Guillotine Shear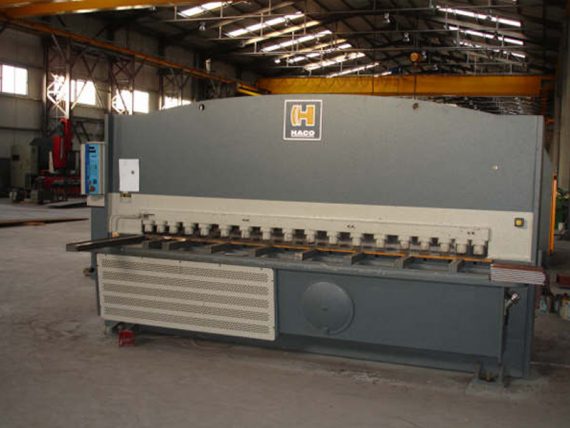 HACO Shear 12mm x 3000 mm
HACO Hydraulic Press Break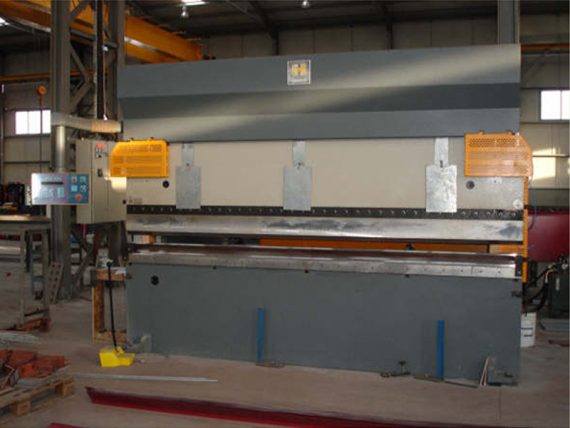 220 t Press Break with useful load 3600 m HACO House.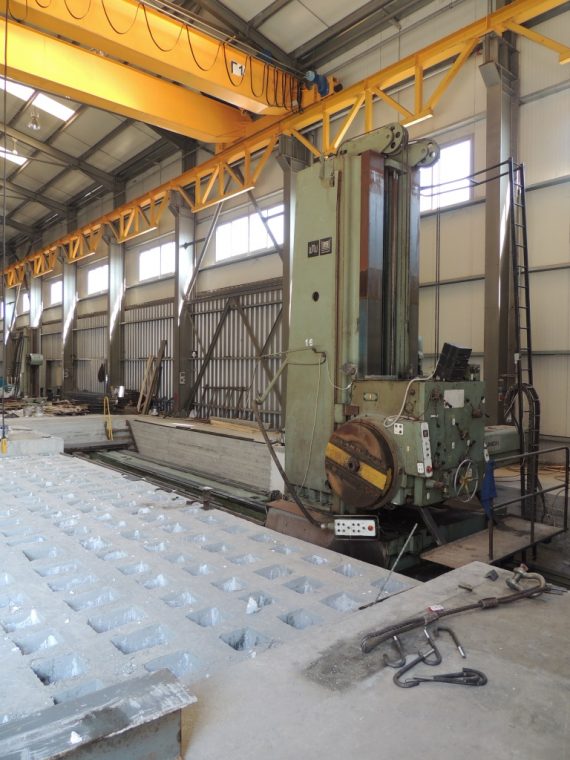 Boring VEB UNION GERA, "FRITZ HECKERT" GBFKF150/1 Tischbohrwerk
Electric Welding Machines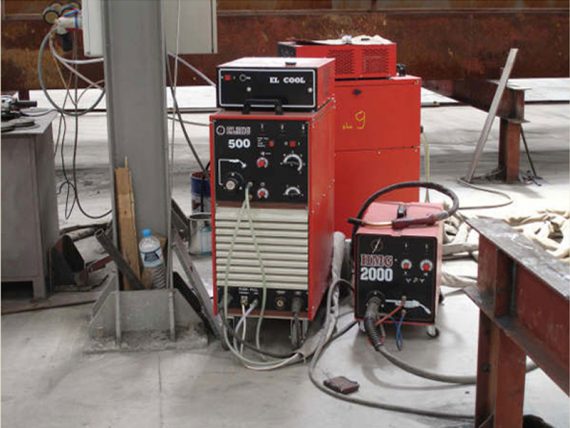 Machines of various types of semiautomatic welding wire 25 pieces of new technology 400-500 A, respectively)
Straddle Carrier, by Combilift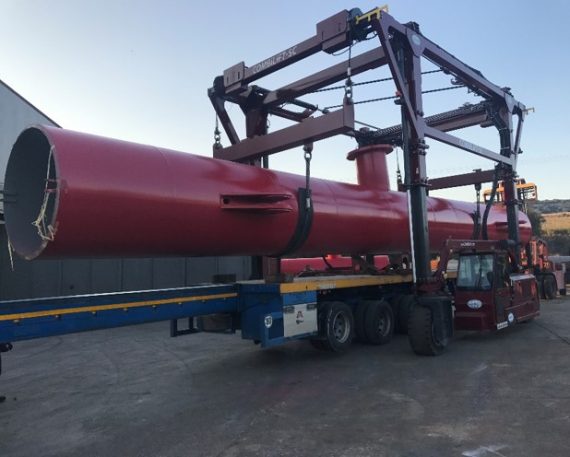 Remote Control Telescopic Straddle Carrier SC1260C, by Combilift, that can handle steel structures up to 70tns.
Radial with Possbility of Perforation F7
Punchscissors of 110 tons
Sun Ark Machine of ESAB House
Compressors of ATLAS COLPCO House GA 50 type
Rolling of plates up to 3000mm width and 155mm thickness which is situated by Four (4) SERVO-TRONIC Synchronized, CNC MCB 3090 Full Hydraulic Rolls
Cutting machine type: Volcano CNC-CG-5000
Cutting thickness: 5-150 mm
Rail Length: 30000 mm
Effective cutting width: 4200mm
Effective cutting length: 27000mm
Cutting speed: 1-6000mm/min
Automatic Submerged Arc Welding Machines
16 Pieces AC/DC 1000SD Advanced Submerged Arc Welder Tandem Wire
Robotic Machine V808, by Voortman
Robotic thermal cutting machine equipped with the new faster and more accurate versatile Panasonic TL 1800G3 coping robot, dimensions: 5720x4460x3600 and weight: 11tns.
NEW PLATE BENDING MACHINE - DAVI MAV Z42
DAVI FULL HYDRAULIC PLATE ROLLING  – Digital, SERVO-TRONIC Synchronized, Full Hydraulic, Press Roll – Variable Axis DAVI "MAV Z42" (4200 mm x 202 mm) , Max Bending power 3500 tons.
SELF ALIGNING TURNING ROLLS - STANDARD
CAPACITY : 60TN 12 SETS- 100TN 8 SETS – 150TN 4 SETS – 200TN 15 SETS
SELF ALIGNING TURNING ROLLS - FIT UP
CAPACITY :  60TN 4 SETS- 100TN 4 SETS- 150TN 4 SETS – 200TN 4 SETS