"Safety is the first priority in all our activities and maintained through continuous improvement of processes, training, and development."
Fabrication of Offshore and Onshore Wind Farm
Casings

Piles

Active – Passive Towers
Our company Lykomitros Steel is committed in playing a part in contributing to climate change. Through collaboration and adaptation, the future will be greener for generations to come. In year 2017 Lykomitros Steel entered on Offshore and Onshore activities. Lykomitros Steel has heavily invested in proprietary state-of-the-art facilities, high technology Equipment, Qualified Personnel and has established serial production lines for rolled foundations such as Monopiles, Pin Piles, Casings and Transition Pieces, complying to all industry standards with effective management and strict respect to project schedules and satisfy the highest quality requirements.
Services include:
Proper and appropriate arrangement of the production process.
Automatic Submerged Arc Welding Machines (tandem) Twin Wire and single wire head (Lincoln power wave AC/DC 1000 SD and ESAB 1250 AC/DC) without any limitation in thickness – 20 pieces.
Rolling machine for plates up to 155 mm thickness / 3000 mm length, 4 Rolls (DAVI).
Rolling machine for plates up to 202 mm thickness / 4200 mm length, 3 Rolls (DAVI).
Flange Fitting Station to adjust the fit-up tool for different L- and T-type flanges (PEMA).
Several number of turning roller beds for welding automation.
Several number of turning roller beds for Fit-up.
Qualified welders.
Qualified Project Management and Quality Assurance.
Applicable standards EN, EN ISO, DIN, BS, ANSI, ASTM, API, SAE, Euro code.
Capabilities of Lykomitros Steel SA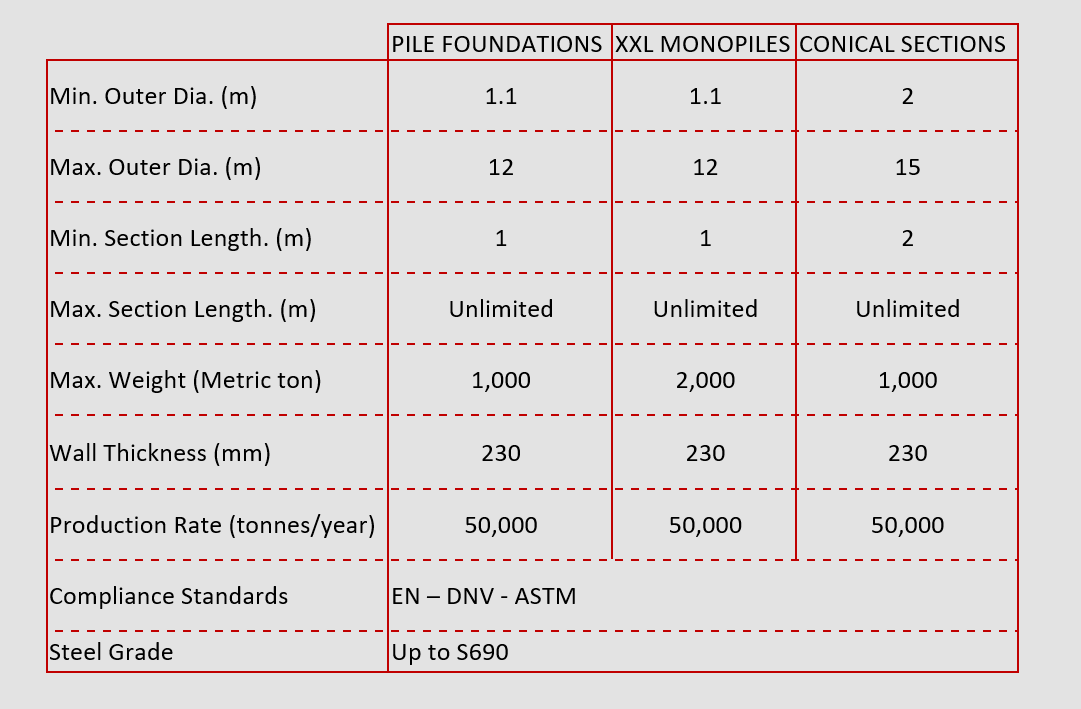 Fabrication of OIL and GAS Drilling Systems
Mast

Substructure

Mud Tank System
Fabrication of Steel Structures
Steel Buildings

Glass Roofs

Power Plants

Waste Management Plants

Steel Bridges

Gantry Cranes
We are active, with intense and lasting operation, to high complexity Steel Structure industry since 2006. Our multi-year experience and Company's proprietary facilities that have been upgraded and modernized to incorporate the latest manufacturing technology has led to provide superior Quality Services to our Partners for complex fabrications of extreme size, shape or weight steel constructions.
In 2012 Lykomitros Steel enter the field of Oil and Gas Steel Structures, since then Lykomitros Steel complete successfully several Projects for international Partners in systems for oil, gas drilling oilfield equipment.
Based on seamless and continuous flow of processing all Equipment are placed to arranged bays according to special layouts designs. Automated production processes apply at all production's phases (Cutting – Drilling – Slotting – Beveling – Punching – Sand-blasting phases) and all our Machinery are of CNC technology for extremely minimize tolerance. For the assurance of the traceability and proper planning and monitoring ConstruSteel software is applicable. The industrialization of the projects during all phases is closely monitored by our established quality systems, environmental and health and safety: ISO9001/2008– ISO 3834-2 – EN 1090-2 – ISO14001 –ISO45001 (ISO18001).